New starting courses in 2017
04.09. – 27.10 – B-level and A-level
06.09. – 22.12. – jobrelated evening course B2 twice a week monday and wednesday
06.11. – 22.12. – B1 and B2
Celebrate with us!!!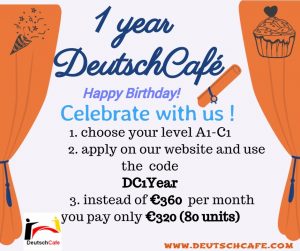 New website in English – visite us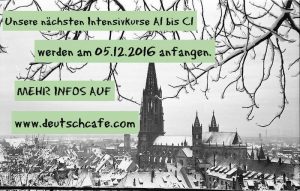 Become our Agent!!! Help us and send us students and get a commission – further information: info@deutschcafe.com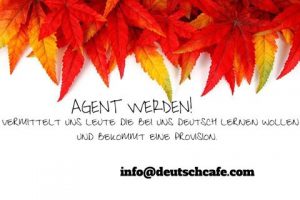 DeutschCafe öffnet am Samstag, dem 08.10.2016 erstmals seine Türen und  lädt alle Sprachenbegeisterte herzlich zum Tag der offnen Tür und zur Eröffnung unserer frisch gegründeten Sprachschule in der Grünwälderstraße 20, im Herzen Freiburgs ein.
Nutzen sie die Gelegenheit, um sich vor Ort über unser vielseitiges Kursangebot zu informieren und unsere Räumlichkeiten kennenzulernen, live Unterricht zu erleben und aktiv mitzuwirken oder auch einfach um sich auf Deutsch zu unterhalten, knallhart zu diskutieren. Unser Team steht Ihnen dabei vor Ort sehr gerne für Ihre Fragen zur Verfügung.
Hier finden Sie einige unserer Höhepunkte des Tages in unserem Programm
ab 10.00 Uhr  öffnen unsere Türen mit einer kleinen Überaschung
11.30 – 12.15 Live Unterricht A1/A2
bis 14.00 Uhr – Leben und Arbeiten in Deutschland – Diskussionen rund um Phänomene des deutschen Alltags (Versicherung, Grüne Flotte und Altweibersommer)
14.00 – 14.45 Uhr – Live Unterricht B1/B2
danach Ausklang des Tages gegen 19.00 Uhr
Deutschcafe opens its doors on Saturday, October 8th 2016 and invites all language enthusiasts to our Open House event celebrating the grand opening of our newly founded language school at Grünwälderstraße 20 in Freiburg's city center.
Take the opportunity to learn about our wide array of courses and get to know our staff and our facilities. Experience our teaching style and philosophy in live classes where you can practice your German or simply listen in on the fun. Our staff will be present and happy to answer your questions.
Open House Highlights:
10.00 a.m. Doors open (get ready for a small surprise!)
11.30 to 12.15 a.m. Live class A1 / A2
until 2.00 p.m. – Discussion: living and working in Germany – discussions about phenomenon of the German everyday life (von Altweibersommer bis Zahnarztbesuch)
2.00 p.m. to 2.45 p.m. – Live class B1 / B2
7.00 p.m. Event wrap up
Etwas Lustiges und Kulturelles zur aktuellen Wetterlage:Man bemerke Heinz Erhardt – ein deutscher Komiker, der leider schon verstorben ist. Viel Spaß beim schauen!https://vimeo.com/67382337

Posted by DeutschCafe on Montag, 11. Januar 2016
There are still free places for the TestDaF exam in Heidelberg the 10/02/16 ! Book a three weeks TestDaF preparation course and save 10 % at www.deutschcafe.com/anmeldung

Posted by DeutschCafe on Donnerstag, 7. Januar 2016
[fbcomments]