Course contents:
Imparting the German language skills necessary for the practice of medicine
Medical communication in the practice
Anamnesis discussions with experienced simulation patients
Documentation
Doctor to doctor talks
medical terminology and grammar
Duration: 10 weeks, 30 teaching units on 5 days
Aim of the course: intensive preparation for the technical language exam
Type of course: Group (max. 8 participants; online max. 6 participants)
Price per person: from 1800,- EUR upwards (There is however a possibility to pay the course fee in instalments. Please contact us).
Course instructors: M.A. Gerel Chuluunbat and Dr. Med. Nikolaus Schurmann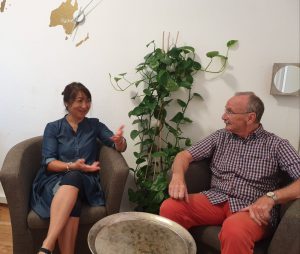 Passing the specialist language examination at the medical association in the respective federal state is a basic requirement for your professional plans and for successful integration in Germany.
In order to pass the language examination, you need a systematic and effective preparation for the examination. The language school DeutschCafé is your competent partner: We will prepare you for your specialized language exam in the course "German Medicine C1". In small groups, you will train your professional language skills in simulation exercises under professional linguistic and technical guidance.
Our school is centrally located in the city centre of Freiburg and offers you, in addition to a learner-friendly atmosphere with small courses, the possibility to enjoy a small breakfast and a coffee or tea in our kitchen.
This course is suitable for foreign doctors with German language skills at level B2 according to the Common European Framework of Reference for Languages (CEFR).
Attention: Courses for physicians can only be booked completely! Here a flexible entry is not possible!